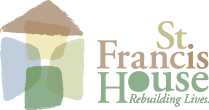 St. Francis House - Boston
Location
39 Boylston Street
Boston, MA - 02116
Many guests come to St. Francis House initially because they need a hot, nourishing meal.

Hours of breakfast serve:
7:30 am - 9 am daily
Hours of lunch serve:
11:30 am - 1:00 pm, 365 days a year.



Services:
Their menus feature lean protein, low-fat dairy, whole grains, and fresh fruits and vegetables, to give their guests the fuel they need and to assist them in developing healthy eating habits.



Meals are free, no questions asked.



They also provide emergency sandwiches after 2:00 pm.




They rely on their dedicated corps of volunteers to help them serve more than 220,000 meals a year.



They are so grateful for their help.



Frequently Asked Questions
Thanks for contributing
Was everything free at this pantry?
Have you ever used this service? How was it?
Were there large lines at this location?
Do you know if they deliver?
Do you know if there is an income limit to get free food at this location?
Are documents required to get food?
How often can I come to this pantry?
Do I need to make an appointment?