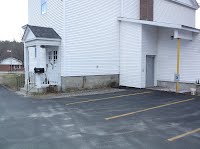 Community Baptist Church
Location
27 Jefferson Road
Whitefield, NH - 03598
The Food Pantry is available by appointment only.Please call the store at 603-837-9044 and leave a message, someone will return your call as soon as possible. The Food Pantry is open to residents of Carroll, Dalton, Jefferson, and Whitefield only.During your first visit you must fill out paperwork. Proof of residence must be shown.
Frequently Asked Questions
Thanks for contributing
Was everything free at this pantry?
Have you ever used this service? How was it?
Were there large lines at this location?
Do you know if they deliver?
Do you know if there is an income limit to get free food at this location?
Are documents required to get food?
How often can I come to this pantry?
Do I need to make an appointment?