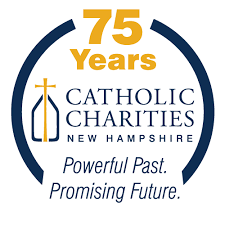 New Hampshire Catholic Charities Inc
Location
215 Myrtle St
Manchester, NH - 03104
New Hampshire Catholic Charities is the state's largest private, non-profit, social service agency reaching out to the poor and vulnerable of all faiths and socioeconomic backgrounds.
Since 1945, their dynamic array of quality programs and services, run by trained professionals and supported by dedicated volunteers, has served their Christian mission to heal, comfort, and empower.
People from all walks of life in nearly every community rely on New Hampshire Catholic Charities.
They, in turn, rely on the generosity of the individuals and businesses that recognize the great social value to fund their necessary work.
Together, the community and New Hampshire Catholic Charities make a difference by offering people hope and empowerment that strengthens the social fabric of New Hampshire.
Mission Statement
Grounded in the life and ministry of Jesus Christ, Catholic Charities New Hampshire responds to those in need with programs that heal, comfort and empower. " *

*From the New Hampshire Catholic Charities Inc website
Frequently Asked Questions
Thanks for contributing
Was everything free at this pantry?
Have you ever used this service? How was it?
Were there large lines at this location?
Do you know if they deliver?
Do you know if there is an income limit to get free food at this location?
Are documents required to get food?
How often can I come to this pantry?
Do I need to make an appointment?