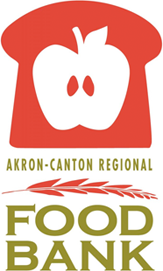 Akron-Canton Regional Foodbank
Location
350 Opportunity Parkway
Akron, OH - 44307
The Akron-Canton Regional Foodbank was formed in 1982 by a group of community leaders who made a commitment to provide emergency food to their neighbors in need.
Today the Foodbank serves more than 400 community organizations, called Member Agencies, in eight Northeast Ohio Counties: Carroll, Holmes, Medina, Portage, Stark, Summit, Tuscarawas and Wayne.
These Member Agencies operate food pantries, hot meal sites, shelters and other hunger-relief programs in the neighborhoods and communities where people need food.
The Foodbank is a distribution center that provides an efficient operation to collect, sort and distribute food.
The Foodbank has an 85,000 square foot warehouse including 8,000 square feet of refrigeration and freezer space.
Mission Statement
To lead a collaborative network that empowers people to experience healthy and hunger-free lives. We distribute food to feed people and we advocate, engage and convene our community in the fight to end hunger. " *

*From the Akron-Canton Regional Foodbank website